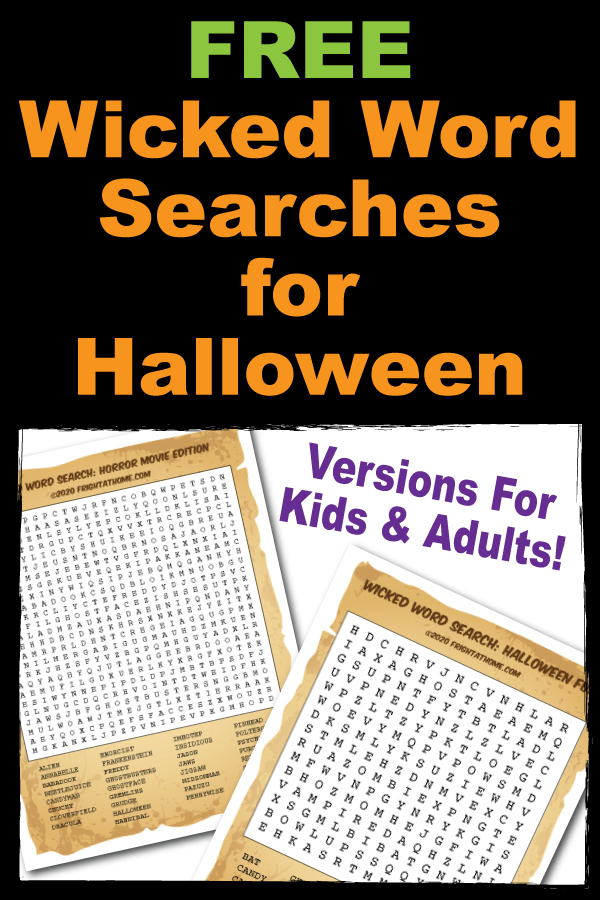 I don't know about you, but I love a good word search. Who doesn't remember getting that coveted assignment on blow-off days in school? "Hey kid, here's a word search , now be quiet for a while so teacher doesn't go crazy." So here is something to do in class, at home, or at your next spooky party – Free Halloween Word Searches!
Everyone has their personal strategies. Do you look for the first letter to find the words? Do you pick out the least common letters? Get the short words out of the way first? Do you just stare until the words jump off the page?
Remember when you graduated to the puzzles that had words backward and upside down? Stuff got real then, right? You knew you were in the big kids club then.
I am effort to fulfill all of your various Halloween seasonal needs, I have come up with some FREE printable halloween word searches just for you! If you like them book mark or pin this page as I will be adding more in the future.
Wicked Word Search for Kids: Halloween Fun
The first is for kids or adults that don't want to try to hard – less letters, easier words, and all the words are forward – though there are a few diagonals because I couldn't make it too easy for you.
Wicked Word Search for Adults: Horror Movie Edition
This one is harder – a ton of letters, longer words, and they are in all directions – up, down, diagonal, backward, upside down. Have fun!
Each download comes with two files, the printable word search and key. Don't open the key until you want to know the word locations.
Ready to play? Download the FREE cross word puzzles from my FREE Resource Library Here!
Need the password? We've got you covered.
---
Do you have any suggestions on halloween and horror themes for future word searches? Drop a comment below or email me at michelle@frightathome.com.