Family Friendly Halloween Movies
I love horror movies – all the scary, silly, suspenseful, and sinister movies made for adults. But, I also enjoy family friendly Halloween movies! Now that I have a 5 year old of my own to watch them with I have found myself looking for more hidden gems and forgotten classics.
What was the first scary movie you watched as a kid? When I was younger I watched a lot of the not so scary movies on the Disney Chanel (any other fans of Disney's Halloween Treat?) but the first real scary movie I remember watching was Gremlins. I also saw Hocus Pocus in the theater in the middle of summer 1993 (I was 12) and I loved it immediately – no band wagon for me! 27 years later it's one of my son's favorite movies as well.
Many of my film lists are short, but I thought it would make sense to break this list down a bit by age/tolerance so that you can find movies that fit your family dynamic. I even included a list of starter-horror for older kids. Watch at your own risk, you know your kids, so go with your gut.
Little Monsters (Toddlers+)
Here we have movies and shorts that even the littlest kids should be able to handle. These films are Halloween themed but more cute than scary.
Just for Fun (Preschool+)
Have a laugh! These movies and shorts are for slightly older kids but still skew more funny than scary.
Sorta Spooky (Grade School+)
Halloween themed movies that are a little more intense. Most kids would be fine watching these, but there are some scary parts that might have them covering their eyes.
No Scaredy-Cats Allowed (Tween+)
These are great starter-movies for kids who are ready to dive into the world of horror. Certainly scary, but not too much blood, gore, strong language, or sexual situations.
---
Special Mention: Treehouse of Horror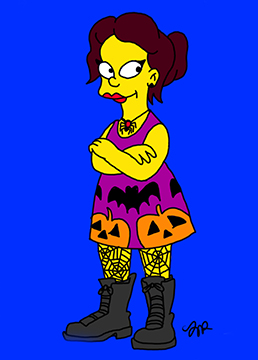 Have a Simpsons Treehouse of Horror marathon on Disney+! In many homes, including ours, the Halloween episode of the Simpsons is a yearly tradition. The perennial gag fest has gotten a bad rap from people who don't think the newer episodes are as "scary" as the older ones, but it's usually a great parodies of other pop culture. There are 30 episodes with XXXI coming out later this year. There is also an in canon Halloween episode (single story, nobody dies) called "Halloween of Horror" (S27E4).
---