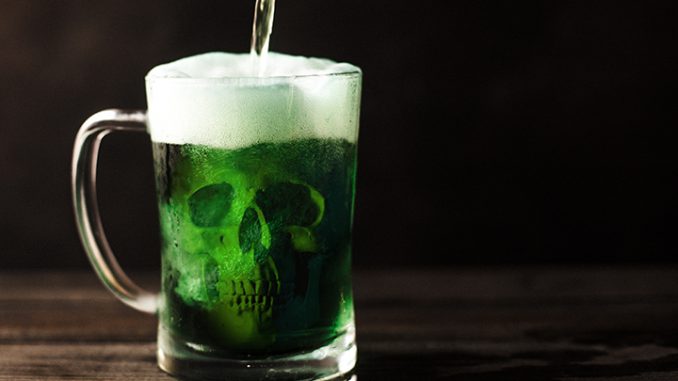 10 Irish Horror Movies To Watch this St. Patrick's Day and Where to Stream Them
Listen, I get that watching Leprechaun every St. Patrick's Day is a tradition for many people and it fits, for sure. I think we can do better though! How about some truly Irish horror movies to watch this year?
There are many good horror movies made in actual Ireland by actual Irish people. So I took time out of my busy schedule and watched a select few (that I could find free on Netflix, Hulu, and Tubi) so you will have a carefully curated (as in I Googled) list of films to choose from this March 17th.
So throw your corned beef in the slow cooker, pour yourself a green beer, and add some mint M&Ms to your popcorn in preparation for our dive into Irish Horror Cinema.
A Bit About Streaming
I tried to include a few movies from each of the most popular services so that there will be something on the list for everyone to watch, regardless of the memberships you have.
The OG of video streaming services. There are a lot of good, quality horror movies on Netflix at any given time and you can make a personal profile so you won't have "Secret Life of Pets 2" on your list next to "The VVitch". Currently $12.99/mo for standard plan.
Amazon Prime video is included in your Amazon Prime Membership. So free movies and free 2 day shipping. Quite a deal. Currently $119/yr or $12.99/mo.
Hulu is a lower cost streaming service, but it includes commercials unless you pay more. There are not always commercials during movies and they are much less intrusive than TV shows when they show up. Movie selection is not vast and quality is hit or miss. Currently $5.99/mo for basic and $11.99 for premium ad free.
Tubi is 100% free, you don't even need to sign in, just download the app and watch. There are occasionally commercials, but they are usually short, few, and far between. Lots of low-budget movies on here, which makes sense because it's free.
10 Irish Horror Movies To Watch this St. Patrick's Day
---
Haunted House, Gothic
Stream on Netflix
Twin siblings live alone in a dilapidated old house with a creepy hatch at the base of the stairs. Sometimes it whispers, sometimes it sings, other times it floods. Whatever is hanging out down there it is hellbent on enforcing some really odd rules.
This one has been on my watch list for a while, so now felt like a good time to check it off. I spent the entire movie feeling a lot better about my personal housekeeping abilities.
Watch this one if you like movies with gothic themes, spooky ambiance, and beautiful visuals. Skip it if you are a stickler for endings that make sense.
---
Alien Invasion, Horror Comedy
Stream on Hulu
Something is quite literally grabbing the citizens of a small fishing town and eating them. The only way to stop them is with blood laced with copious amounts of alcohol. Luckily the Irish are specially equipped for this kind of challenge.
Some familiar faces in this one so I spent much of the beginning trying to figure out where I knew them from. (Richard Cole is from Chilling Tales of Sabrina and Russell Tovey is from Being Human- you're welcome.)
Great for fans of horror comedies, but it's a lot more subtle than movies like "Shaun of the Dead" or "Tucker and Dale vs. Evil". Avoid if you don't like creature features.
---
Supernatural Thriller
Stream on Amazon Prime or Tubi
An archivist is disturbed by vintage press clippings of crimes that took place in his house. Also his wife is cheating on him. Not a good combination, especially when she goes missing.
Only research your house BEFORE you buy it. Once you live there it is already too late. Of the movies on this list, this is the one I enjoyed the most. Take that for what you will.
If you are into suspense and mystery with a touch of the paranormal this is the film for you. It reminded me a lot of "Sinister." Give it a pass if you don't like horror movies with kids.
---
Supernatural Comedy
Stream on Amazon Prime
What's the best way to get tourists to stay at your failing Irish castle turned hotel? Say it's haunted! (I mean, it would work for me.) Now what if it turns out to be true?
My friends, I simply had to include this movie. It's absolutely ridiculous and terrible and I love it. I mean, it somehow has Daryl Hanna, Peter O'Toole, Steve Gutenberg, AND Liam Neeson in it. It's on the list because I wanted it on the list and it's MY LIST DAMNIT.
If you remember the 80's fondly, and miss the absolutely bonkers movies that came out of the decade, I suggest you give this one a go. If your tastes are a little more sophisticated you'd do best to move along.
---
Teen Zombie Comedy
Stream on Tubi
After the tragic death of her son, a desperate mother turns to witchcraft to resurrect her son. Something goes terribly wrong – because it always does. I mean, mom really drops the ball from start to finish on this one.
First off, you are going to have to get over the fact that this looks like a cheesy 1990's teen romcom, it gets better, I promise. This movie reminds me of the "Dead Man's Party" episode of Buffy the Vampire Slayer where Buffy's mom brings a cursed mask into her house and hangs it up because she thinks it looks cool. "Do you like my mask? Isn't it pretty? It raises the dead."
Check it out if you like zombie movies. Watch something else if you can't stand annoying teenagers.
---
Horror Anthology
Stream on Netflix
This collection of short films spans an entire year's worth of holidays. The holidays featured include Valentine's Day, St. Patrick's Day, Easter, Mother's Day, Father's Day, Halloween, Christmas, and New Year's Eve.
This one is a bit of a two-fer and a cheat. It's a holiday anthology with a St. Patrick's Day segment that was filmed in Ireland, while the rest of the movie was filmed in the US. The director of the St. Patrick's Day segment is also from Ireland, so I have decided to include it.
Anthologies are great because the short form allows the filmmakers to get a little insane. Don't watch if you need answers to every question.
---
Horror Mystery
Stream on Tubi
A surveyor is given a very secretive job in the middle of a forest and gully with no name. He starts to notice odd things about the area.
This movie succeeds in being unsettling, but I'm not sure why as not much happens. In fact I'm not quite sure what i just watched. You might like it though.
Give it a go if you like slow-burn horror. Pass on this one if you get bored easily.
---
Documentary, Exorcism
Stream on Netflix
This documentary examines the life and work of Malachi Martin, an Irish Catholic priest, writer, and exorcist.
Ok, so this is not technically a horror movie, but it is very unsettling whether you believe in possession or not. It takes a while to get to the event that is teased in the tag lines. Whatever your beliefs this film is not going to change you mind.
If you like documentaries, this one's for you. Don't watch if you're going to be annoyed for two hours because you think it's utter B.S.
---
Horror Thriller
Stream on Amazon Prime or Tubi
A young widow must conceal the death of her husband in order to secure her inheritance. Unfortunately she married into a family with a few secrets of their own.
I had to include some classic horror on this list. I enjoyed this movie. It seems like it's going one way and then takes a hard turn. The 60's produced a lot of great horror and a lot of terrible horror – this one is somewhere in the middle.
A good choice if you like classic horror thrillers. If you don't like black and white movies, watch something else.
---
Survival Horror
Stream on Amazon Prime or Tubi
After causing the suicide of one of their bunk mates, a group of teenage delinquents are sent to an uninhabited island for… character building? Turns out the Island isn't as uninhabited as they thought.
Who thought this was a good idea, honestly? One guard with a group of psychopathic kids in the middle of the woods. Things were going to go bad no matter what. This is one of those movies where almost everybody sucks, so you don't mind them dying too much. That said, I actually really enjoyed it.
Give this one a chance if you like hunter/prey horror movies. Pass if you don't like any type of gore.
---
BONUS
Into the Dark: Crawlers (2020)
Horror Thriller
Stream on Hulu
This year's St. Patrick's Day entry into Hulu's Into The Dark series involves college kids, a wild party, and body-switching aliens. I can't tell you much about this because I'm saving it for the big day itself!
Happy St. Patrick's Day!