I wanted to challenge myself to create a craft for kids to make. It needed to be easy to make with inexpensive materials. I was able to make this with stuff I already had around the house! This is cute enough that anyone can make it, but simple enough that it will make a great craft for a kids' Halloween party!
---
Materials
20 Popsicle Sticks
Black Paint
Paint Brush
2 Sheets of Vellum Paper
Black Marker
Hot Glue Gun
Hot Glue Sticks
Battery Operated Tea Light
Optional: Self-Sticking Spiders
---
Instructions
Step 1: Paint the popsicle sticks with black paint on all sides, allow to dry.
Step 2: Glue 4 sticks into a square. Repeat 5 times.
Step 3: Cut 5 pieces of vellum to fit the popsicle stick squares.
Step 4: Draw spiderwebs on each of the pieces of vellum.
Step 5: Glue the vellum panels to the backs of the popsicle stick squares.
Step 6: Glue the squares together at the edges.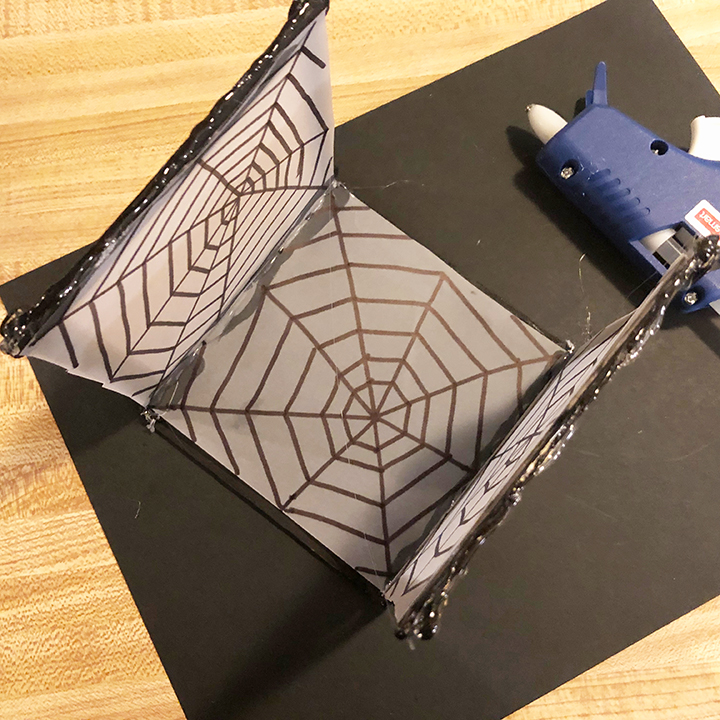 Step 7: Add the optional spiders and set the lantern over a battery operated tea light.
---