Confession time. I am a mom in the age of Pinterest and I have never made slime. This weekend I decided to rectify that fact and, being me, I had to put a spooky spin on it.
The first thing I thought of was The Blob!
Have you ever been to Disney World and eaten at Sci-Fi Dine-In Theater? If not, I highly recommend it! The food can be hit or miss, but the atmosphere and entertainment can't be beat. You sit in "cars" made to look like '57 Chevys, the waitstaff wears roller skates, and you watch an "outdoor" movie featuring clips and trailers from old B-Movies. The best part is when the Blob comes on and they play the song…
Beware of The Blob, it creeps
And leaps and glides and slides
Across the floor
Right through the door
And all around the wall
A splotch, a blotch
Be careful of The Blob
I also wanted to make an alternate version for kids who might find The Blob a little too scary.
When you think of Slime you think of Slimer!
My 4 year old son has recently discovered "The Original Ghostbusters" on Netflix and LOVES IT! Of course his favorite character is Slimer (mine too.) The Ghostbusters and their gooey buddy transcend generations.
As this was my first time I did do a trial batch in the kiddo's favorite color, blue.
What you will need…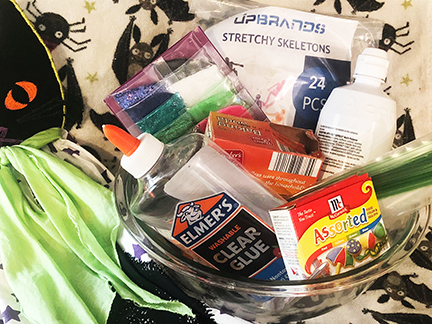 Basic Ingredients for Slime
1 Tsp Baking Soda
1 1/2 Tbsp Contact Solution (must contain boric acid)
Plastic Sandwich Bags with Zip Closure
Optional – To Make Slimer Slime
Optional – To Make The Blob Slime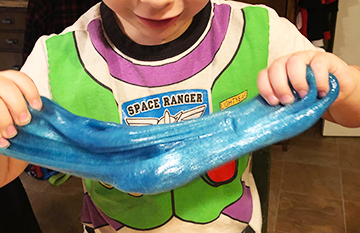 Directions
Note: This is the same recipe you will find all across the interwebs. I do not claim to own it, just putting my own spooky twist on it. Not for kids under 4. Supervise kids at all times. Don't eat it. Don't let other people eat it. This is not food. Make at your own risk. I claim no responsibility for any damage to person or property that may come about from doing this activity. Glue sticks, food coloring stains, glitter glitters – so be careful!
Pour your glue into a bowl. I used glass to make sure that nothing would stick.
Add baking soda and mix until combined.
Add contact solution 1/2 tablespoon at a time, mixing in between.
Spray your hands with cooking spray before step 4 to keep the un-finished slime from sticking to your hands.
Mix and kneed to your desired consistency. Add water if you want it to be thinner – but only a little at a time.
Add food coloring until you reach your desired color – less is more, it goes a long way. To make the classic "Blob" color use 5 drops of red and 1 drop of green.
Add glitter or skeleton and fold into the mixture.
Play with it for a while, it's fun!
Add to bag and affix label.
Notes and Tips:
Multiply the recipe to make additional bags for Halloween Party Favors.
Don't have label paper? Print on plain white paper and glue or tape to the bags.
The stretchy skeletons are fun the their own right, so don't be afraid to by the bulk bag.
FREE Printable Scary Slime Labels
Get the password for my FREE Resource Library with access to the Scar Slime Labels by joining our mailing list here:
Note: This post contains affiliate links.