I love making food and drinks with a flare for Halloween parties. All my recipes are pretty simple, but it's in the presentation that I shine! So welcome to my first drink recipe: Loch Ness Potent Punch!
I found this adorable Nessie Ladle and had to figure out an excuse to buy it. This delightful drink recipe skews a bit more cute than creepy, but I love it just the same. It tastes pretty good too!
Ingredients
4 Cups – Pineapple Juice
5 Cups – Lemon-Lime Soda
3 Cups – Malibu Coconut Rum*
3 Cups – Blue Curacao*
*Making a kid friendly version? Replace the Rum and Curacao with blue Kool Aid.
Note: This is enough to fill a gallon fish bowl, feel free to adjust ingredients as your taste dictates.
Supplies
Note: The Nessie Ladle also comes in Purple and Green. Pick your poison.
Instructions
Step 1: Prepare the ice cubes ahead of time. Consider making a few batches and keeping them in a bowl in your freezer. As cute as they are, they tend to melt quickly.
Step 2: Download my Bone Fish & Seaweed svg cut files >>here<<.
Step 3: Use Cricut or a similar cutting machine to cut the svg files on black vinyl adhesive material. If you do not have a cutting machine you can download and print the pdf to use as a template to cut the vinyl or paint directly onto the bowl if you prefer.
Step 4: Affix to the side of the bowl. No need to be exact, layering the seaweed gives nice dimension.
Step 5: It's almost time to drink up! Add the ingredients in the amounts shown above, feel free to make adjustments depending on your personal tastes.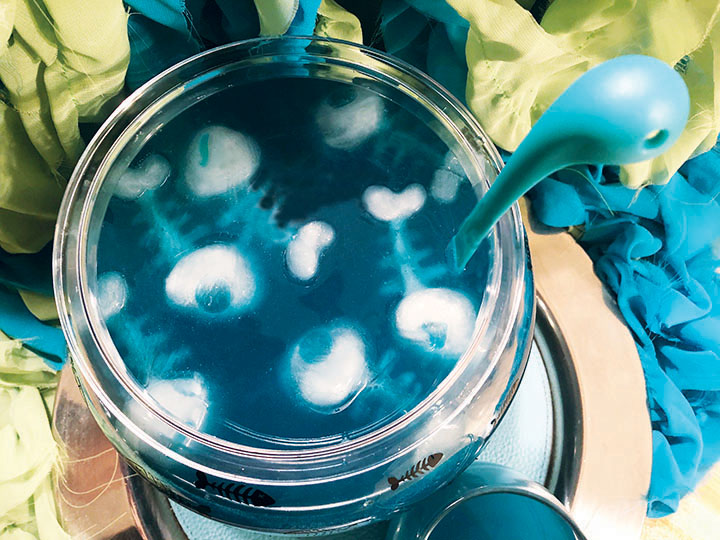 Step 6: Add ice cubes and replenish as needed.
Step 7: Use your cute new Nessie Ladle to serve!
There you have it!
My husband and I "sampled" the punch over the weekend and we both really liked it! This would make a great party drink for a spooky game night or Halloween party. I hope you and your guests enjoy my Loch Ness Potent Punch!