I love it when a project turns out even better than I planned!
I'm sure many of you have one of these cheap plastic cauldrons tucked away in your Halloween decorations. Maybe you use it for handing out candy, as a witch's prop, to serve drinks at a party, or keep your abandoned hopes and dreams in. I don't know your life.
Whatever you use it for we can definitely make it look better while fulfilling it's intended purpose. So let's take it from Cheap to Creep and make that black plastic cauldron look old and used.
Need some tunes to craft to? Check out my "Feeling Witchy" playlist here.
First thing is first. There is no point in spending a lot of money on supplies to make this thing look cool – otherwise you would have just bought the old-looking one at Party City in the first place, amiright? So I took my enormous blog income ($3.17 on ads alone in JUST 3 1/2 months) to our local Dollar General.
Most dollar stores are created equal so you should be able to find this stuff at any Dollar General, Family Dollar, or whatever store around you claims that "everything is a dollar except the stuff that's not." You can also get these same supplies pretty cheap at craft stores or even Walmart.
Supplies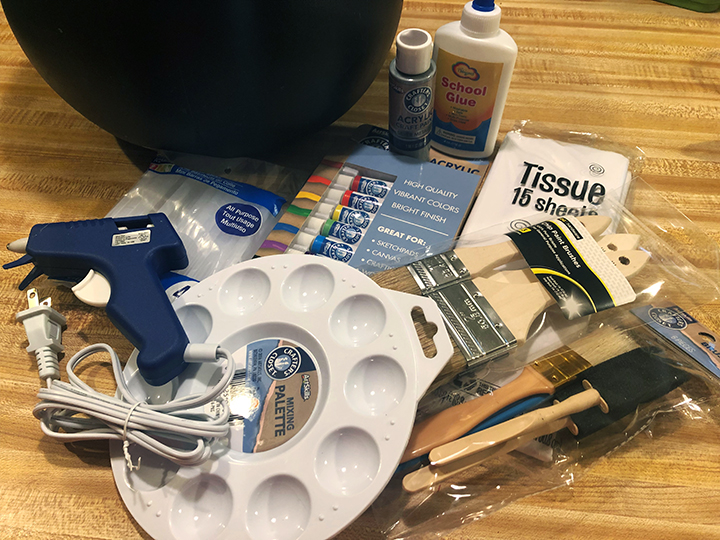 Instructions
Rust Up
Rip pieces of tissue paper and attach them to the bottom of the cauldron rim with school glue. Use large paintbrush to cover the tissue paper with school glue. Place a few of these around the bottom rim, these are going to be rust spots. Let it dry and harden.
A Bubbling Brew
Use hot glue gun and glue to make drips around the rim of the cauldron. The best way I found to do this is to just put a big glob on the edge and let it drip over. May take a couple tries to get it to look the way you want it but that's ok because once the hot glue dries it is really easy to just peel it off and try again. Let it dry and harden.
Totally Metal
Use the large brush and brown paint to paint the sides of the cauldron. Make cross-hatch like strokes to look like brushed metal.
Mix different shades of brown to create texture.
Dab the dried tissue paper with red and brown to make it look like rust.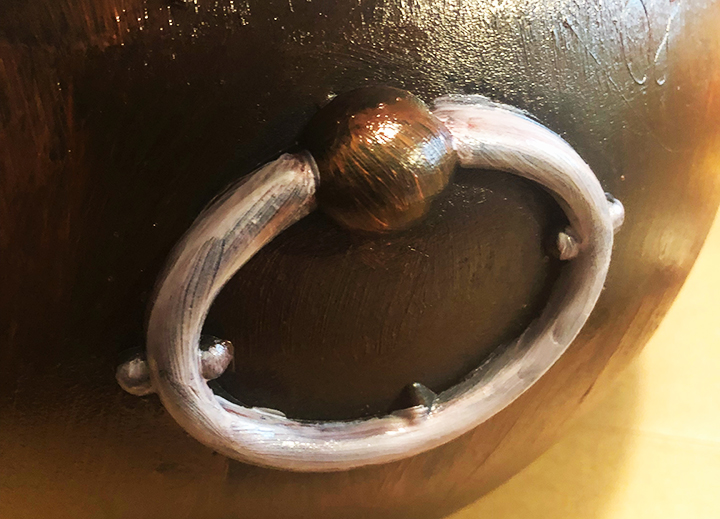 Potent Potion
Take the small brush to paint the handles with the gold or silver paint.
With the sponge brush, dab your green paint all over the hot glue drips and the edge of the cauldron. Make sure to dab, not brush so it takes on the texture of a bubbling brew.
Add yellow paint sparingly over the green paint to create dimension.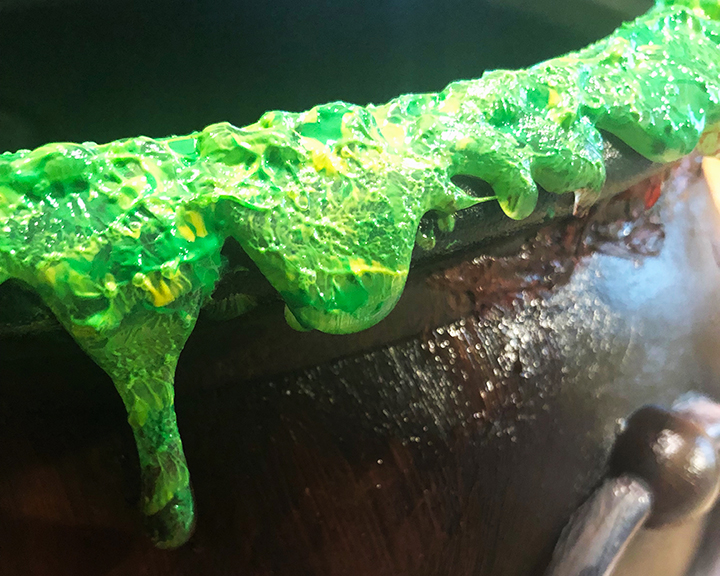 You should have something that looks like this! If you need more texture, dab some more with the sponge before it dries.
Let the whole thing dry and then check back here next week for a tutorial on how to make your new creepy cauldron look like it's sitting on top of an open fire!
Need a reminder? Do you want to keep up with all our upcoming projects? Join our mailing list!